Need to intensify political dialogue and economic cooperation with Nigeria
Minister of Foreign Affairs of the Republic of Serbia Nikola Selakovic received today a farewell call from the non-resident Ambassador of the Federal Republic of Nigeria, Eniola Olaitan Ajayi.
Minister Selakovic noted that the bilateral relations were good and expressed readiness for their strengthening in numerous areas. The Head of Serbian diplomacy said that it was necessary to intensify mutual political dialogue and, in that context, he extended an invitation to the Minister of Foreign Affairs of Nigeria for a visit to Serbia.
Furthermore, Minister Selakovic expressed the expectation that Nigeria would again have a diplomatic presence in Serbia and, aiming to strengthen bilateral relations, re-open the embassy in our country.
Selakovic thanked Nigeria for its principled position concerning non-recognition of the unilaterally declared independence of the so-called Kosovo and said that our country was committed to the further development of multilateral cooperation through closer coordination, exchange of information and exchange of support in international organizations.
Discussing economic cooperation, Selakovic pointed out that there was a significant potential for its promotion, as well as that Serbia was willing to hear Nigeria out regarding its specific needs and priorities, in order to enhance cooperation in the interest of both countries. The areas that were underlined include IT, food industry, construction, machine industry, etc.
Minister Selakovic expressed interest in developing contacts in the fields of culture, education and sports.
On this occasion, Selakovic extended his congratulations on the election of the representative of Nigeria, Ngozi Okonjo-Iweala, as the seventh Director-General of the World Trade Organization.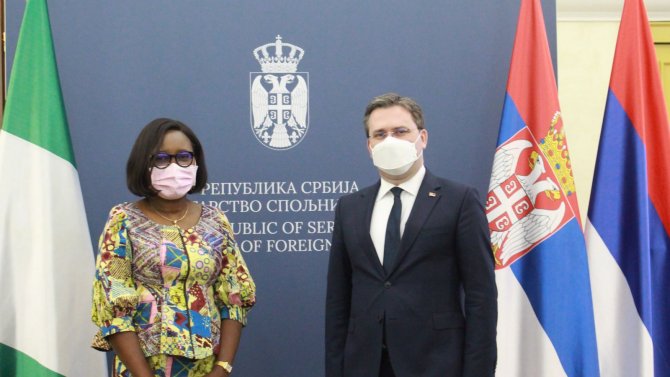 Belgrade,
15 March 2021